Hotel Starlino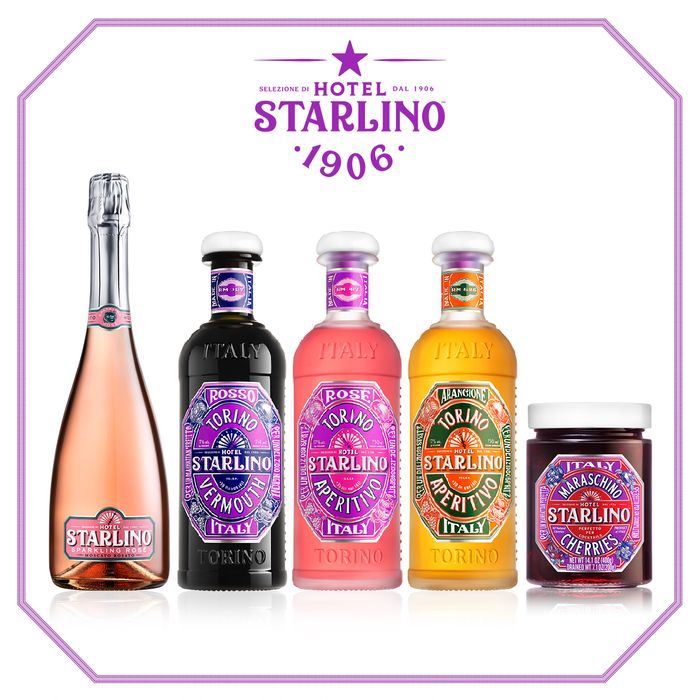 A range of delicious Aperitivos from Torino, inspired by the beautiful distillery building of Torino Distillati.
Hotel Starlino Rosso – aged in Bourbon barrels, this rich vermouth is warmed with notes of fig and dried cherries, and just faint hints of spiced gingerbread and bitter orange peel. Drinkable solo as an aperitivo or used as a cocktail-mixing to make the perfect Manhattan or Negroni.
Hotel Starlino Rosé – made with Italian grapefruit peel, lemon peel and other herbs and spices, giving enticing aromas of rose water, plum, ripe cherry, and strawberry alongside hints of ripe grapefruit. To be drunk simply with soda or tonic, or as the basis of a delicious summer spritz.
Hotel Starlino Arancione – made with Italian orange peel, lemon peel and other herbs and spices, creating tropical aromas and the flavours of blood orange and peach. Perfect on the rocks, with tonic or soda, or mix with Prosecco and soda for an enticing summer spritz.
Hotel Starlino Maraschino Cherries - natural Maraschino cherries, matured for two weeks in their natural Marasca juice then rested for another week to achieve their peak flavour. The result, a delicious luxury cherry that is delightfully sweet and savoury. Perfect for garnishing cocktails as well as creating delicious desserts.
Hotel Starlino Moscato Rosato – A sparkling Rosé wine, made from Moscato Bianco and Brachetto grapes from Piedmont, created to pair perfectly with Hotel Starlino aperitovos. Mix with Hotel Starlino Rosé, add a dash of soda and garnish with a slice of grapefruit for a delicious spritz.