Girvan Single 14 Year Old Grain Scotch Whisky Single Cask Series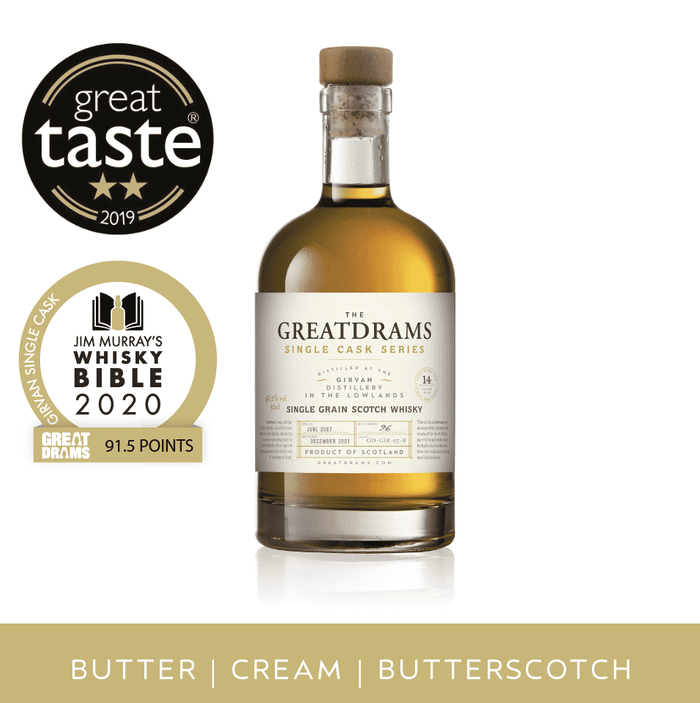 Described by the Great Taste Awards judging panel, who awarded this product a 2-star Great Taste award, which means judges dubbed it above and beyond delicious as having "remarkable smoothness for its ABV. Rather extraordinary and hugely sippable. A surprising whisky, well deserving of its two stars".
An ex-bourbon single cask single grain limited edition from the Girvan Distillery in the Lowlands of Scotland. This one garnered so much attention from its 'boozy butter' description, and it the one whisky we have produced where people actually repeat that line back to us at events years later that we just had to hunt down another cask from the same batch; distilled on the same day, same distillery, filled into the same style of cask… but matured for three years longer than the original. The result? You guessed it… its like drinking boozy butter, with hints of fruit and is impossibly smooth on the palate.
Distillery: Girvan
Region: Lowlands
Age: 14 Years Old
Distilled: June 2007
Bottled: December 2022
Cask type: Ex-Bourbon Hogshead
ABV: 48.2%
Limited: 273 bottles globally
Non-chill filtered
Natural colour