15 Mar 2022
Northern Hospitality Power List Winners Announced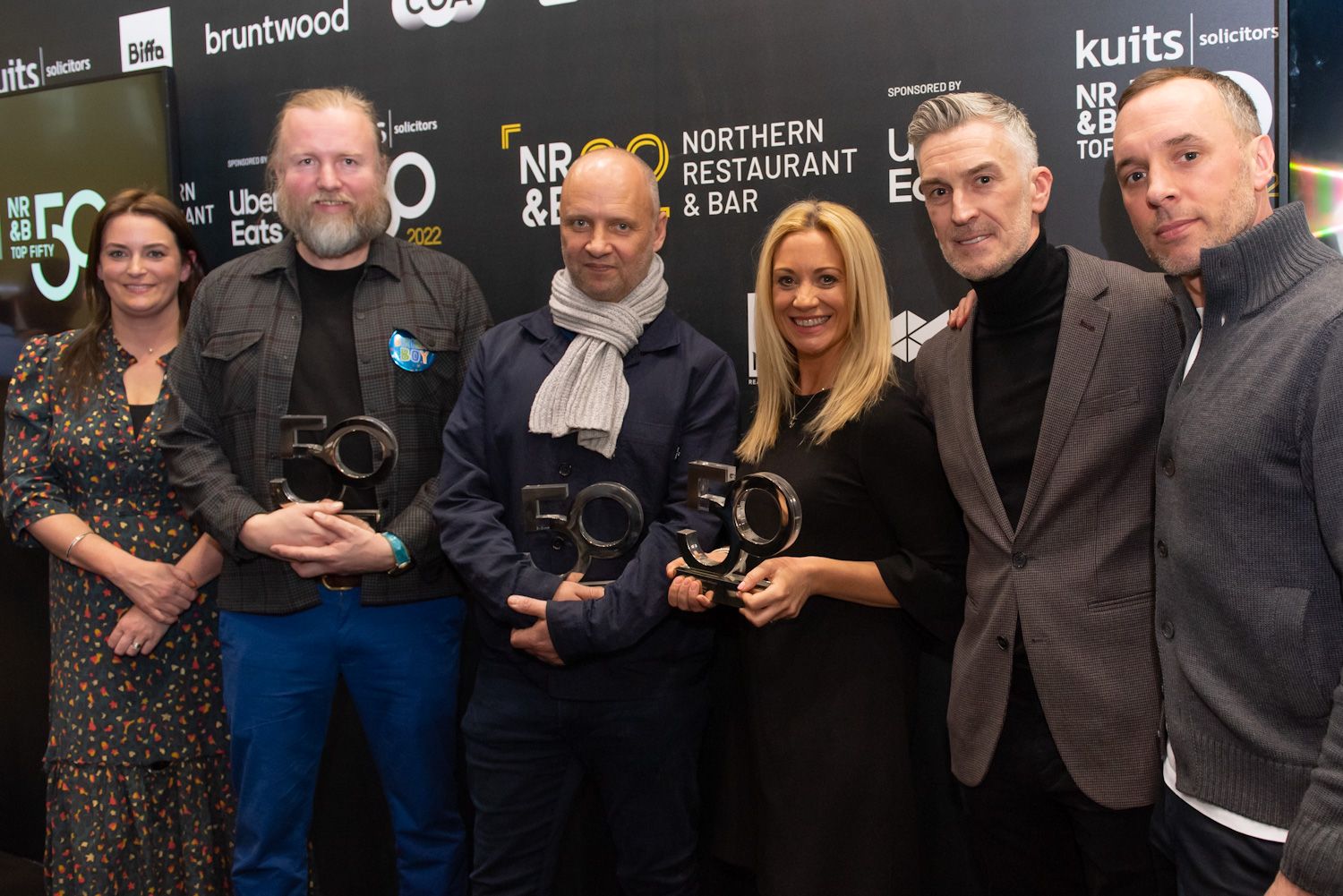 Now in its ninth year, the Kuits NRB Top Fifty is an exciting power list of the North's most significant and influential hospitality operators. The list, which reflects the industry's impressive recent bounceback, features big names and rising stars, including four new entries and one re-entry and covers 212 brands, 1472 sites and over 24,500 employees, demonstrating the strength of the region's hospitality scene.
The Kuits NRB Top Fifty 2022 has been announced today at Northern Restaurant & Bar 2022, the hospitality trade exhibition in Manchester, with the list featuring a mix of long-established names, up and coming talent and five new entries. Three special award winners were also revealed, highlighting those operators who have enjoyed a particularly impressive year.
Thom Hetherington, CEO of organisers Holden Media, says "It's been an immensely challenging period for hospitality, but I think the North's operators have demonstrated incredible tenacity, resilience and creativity to come through so strongly. I'm delighted to see the region's leading restaurants, bars and pubs looking to the future with plans for new sites, new launches and new concepts, and it's no surprise to see the recent industry data showing that new openings in Northern cities are running at twice the level of London."
The three special achievement awards were presented to Simon Rogan of Umbel Restaurant Group, Adam Jones & Drew Jones at Tattu and Jamie Lawson, founder of Ossett Brewery
Jamie Lawson, Ossett Brewery
Judges said that this Yorkshire-based operator has 28 sites with a group turnover of £17million and more than 400 members of staff. Their innovative and multi-faceted approach to the traditional business of brewing and bars places them at the forefront of the industry.
Adam Jones & Drew Jones, Tattu
Judges commented that Tattu has quietly established itself as one of the most competent and confident brands in the industry, adored by its loyal audiences and with trading figures to match, and has recently announced plans to expand into London.
Simon Rogan, Umbel Restaurant Group
The judges stated that this operator is a true legend of Northern gastronomy, and has also opened successful restaurants in London and Hong Hong. A twenty year journey has confirmed their position as one of the world's great chefs and restaurateurs, culminating in an unprecedented three star accolade.
New entries in 2022 include the founders and directors of Archies, Common & Co, Dabangg, NQ64 and a welcome re-entry of Zanna Group.
A panel of Northern hospitality experts in the fields of hospitality finance, accountancy, property, law and consultancy deliberated and cogitated through hours of research and pored over hundreds of pages of judging notes.
As specialist legal and commercial advisors to the leisure and hospitality sector, Kuits has been proud to support and judge these awards for a number of years and this year have further bolstered their commitment by being involved in what is now the Kuits NRB Top Fifty Awards.
"In what is a sought-after badge of honour in the industry, the hotly-anticipated Top Fifty list provides an important platform for the most exciting and influential new and established operators in the hospitality industry – a sector that is continuing to thrive, harnessing creativity, innovation and collaboration to propel brands forward. We are delighted to recognise those operators we feel are really making waves in what is a constantly evolving market. Thank you for helping to make the North the best place to eat, sleep and drink in the UK," said Felicity Tulloch, Head of Licensing, Kuits.
The Kuits NRB Top Fifty 2022 is sponsored by Biffa, Bruntwood, CGA, CPL Learning, Marsh Commercial, Metis Real Estate, NatWest, Uber Eats and Zellar and is supported by JW Lees and Imp & Maker.
The invitation only Kuits NRB Top Fifty awards reception took place at 3pm on Tuesday 15 March 2022 at Northern Restaurant & Bar.
Northern Restaurant & Bar 2022, sponsored by Uber Eats, will be the first major hospitality show of the year, providing a blast of momentum for the industry. Once again NRB will be bringing together operators and suppliers, promoting ideas and inspiration, representing and leading the sector in the North on 15-16 March 2022 at Manchester Central.
Kuits NRB Top Fifty 2022
(listed alphabetically by company)
Terry Laybourne, 21 Hospitality Group
James Baer, Amber Taverns
Gary Roberts, Amber Taverns
Anni Opong, Arc Inspirations
Chris Ure, Arc Inspirations
Martin Wolstencroft, Arc Inspirations
NEW ENTRY
Amer Rafiq, Archies
Imran Rafiq, Archies
Irfan Rafiq, Archies
Asim Rafiq, Archies
Morgan Davies, Barburrito
Mark Husak, Bundobust
Mayur Patel, Bundobust
Rob Cameron, By The River Co / Wylam Brewery
Dave Stone, By The River Co / Wylam Brewery
David Soley, Camerons Brewery
Chris Soley, Camerons Brewery
Tim Bird, Cheshire Cat Pub & Bars
Mary Mclaughlin, Cheshire Cat Pub & Bars
NEW ENTRY
Jonathan Heyes, Common & Co
Charlotte Heyes, Common & Co
Barry Ladhar, Crafted Projects
Michael Ladhar, Crafted Projects
NEW ENTRY
Zack Issak, Dabangg
Richard Bailey Daniel Thwaites
Naveen Handa, East Coast Concepts
Vernon Lord, East Coast Concepts
Simon Shaw, El Gato Tapas / Mill Hill Developments
Gary Usher, Elite Bistros
Oliver Robinson, Frederic Robinson
William Robinson, Frederic Robinson
John Ennis, Graffiti Spirit
Matthew Farrell, Graffiti Spirit
Matt Snell, Gusto
Rob Bacon, Hickory's Smokehouse
Jason Bligh, Hickory's Smokehouse
Neil McDonnell, Hickory's Smokehouse
John Welsh, Hickory's Smokehouse
Ashley Kollakowski, Hit The North
Simon Stevens, Hit The North
Sean Donkin, Inn Collection Group
Ian Goulding, Inn Collection Group
James Warburton, James' Places
William Lees Jones, JW Lees
Kit Graves, Lake District Hotels
Charles Graves, Lake District Hotels
Danielle Hope, Lake District Hotels
Paul Moran, Living Ventures
Jeremy Roberts, Living Ventures
James Bates, Maray
Dominic Jones, Maray
Thomas White, Maray
Nina Bigland, Milestone Group
Matt Bigland, Milestone Group
Roy Ellis, Mission Mars
Neil Macleod, Mission Mars
Nisha Katona, Mowgli Street Food
Lucy Nelson, Nelson Hotels
Andrew Nelson, Nelson Hotels
Jesper Friis, New World Trading Company
John Gyngell, North Bar / North Brewing
Christian Townsley, North Bar / North Brewing
NEW ENTRY
Andy Haygarth, NQ64
Matt Robson, NQ64
SPECIAL ACHIEVEMENT AWARD
Jamie Lawson, Ossett Brewery Pub Company
Jamie Hawksworth, Pivovar & Tapped Brew Co
Jonathon Holdsworth, Pivovar & Tapped Brew Co
Rob Pitcher, Revolution Bars Group
Ben Jones, Roxy Leisure
Matthew Jones, Roxy Leisure
Carlo Distefano, San Carlo Group
Marcello Distefano, San Carlo Group
Tomas Maunier, Southern Wind Group
Steve Pilling, St Joseph's Ltd
SPECIAL ACHIEVEMENT AWARD
Adam Jones, Tattu
Drew Jones, Tattu
Simon Potts, The Alchemist Bar & Restaurant
Jobe Ferguson, The Liars Club Group
Lyndon Higginson, The Liars Club Group
Ross Mackenzie, The Liars Club Group
Andrew Pern, The Star at Harome/Star Inn The City
Aaron Mellor, Tokyo Industries
SPECIAL ACHIEVEMENT AWARD
Simon Rogan, Umbel Restaurant Group
Sarah Cook, Vaulkhard Group
Oliver Vaulkhard, Vaulkhard Group
Harry Vaulkhard, Vaulkhard Group
Andrew Wildsmith, Wildsmith Hotels
RE-ENTRY
Sax Arshad, Zanna Group
Ends
Editors Notes
Media Contacts
For more information & images please contact:
Clare Tams, Marketing Manager 01457 851151 clare.tams@holdenmedia.co.uk
Liam Whitehead, Digital & Social Media Marketing Executive 01457 851153 liam.whitehead@holdenmedia.co.uk
SPONSORS
Kuits is a specialist legal and commercial adviser to the leisure and hospitality industry, working with hundreds of bars, restaurants, health clubs, theatres, cinemas, hotels, and food and beverage businesses across the UK. Ranked the No.1 law firm in the North West for the licensed trade by Legal 500, Kuits provides operators with specialist advice on everything from their leases and licensing applications to their employees and brand management. Kuits is working with national brands such as BrewDog, Mission Mars, Revolution, Junkyard Golf, The Alchemist and New World Trading Company, as well as exciting indie operators such as Bundobust, North Brewing Co and Manchester Gin, to help their businesses grow and flourish.
From chains to independent sites, Biffa – North West's experience, capacity & coverage takes the hassle out of managing waste & recycling. With an extensive range of solutions including food and glass recycling, we support 1000's of pubs, restaurants and hotels to increase recycling, manage waste, review costs & achieve goals.
Bruntwood has been creating thriving cities for over forty years and is deeply connected with the cities it operates in. It plays a pivotal role in creating vibrant places and unlocking economic potential. It has a workspace and retail property portfolio stretching across Manchester, Cheshire, Liverpool, Leeds and Birmingham; all striving to create the best places to live and work with retail at heart of this vision.
CGA is the definitive On Premise measurement, insight and research consultancy that empowers the world's most successful food and drink brands. With more than 30 years'
experience and best-in-class research, data and analytics, CGA is uniquely positioned to help On Premise businesses develop winning strategies for growth. CGA works with food and beverage suppliers, consumer brand owners, wholesalers, government entities and pub, bar and restaurant retailers to protect and shape the future of the On Premise experience. Its mission is to use phenomenal data and expert insights to give brands a competitive edge and ensure the market we love is the most vibrant possible.
CPL Online provides a wide range of digital learning, tutor-led courses and team engagement tools designed specifically for the hospitality sector. L&D comes in all shapes and sizes and to educate, engage and empower you need the right tools; therefore, CPL believe blended is the key to L&D.
Marsh Commercial is a leading UK broker, with a strong local presence in Manchester, serving the North West region for over 40 years, and putting customer care at the heart of what we do. We cater for a wide range of business insurance sectors and niches including restaurants and casual dining, indeed we have been insuring local restaurants and a number of national restaurant chains for over 16 years.
Metis Real Estate Advisors are an independent commercial real estate consultancy providing expert advice to occupiers, landlords, investors and developers across the UK. The leisure team provides advice on some of the UK's best known leisure schemes as well as providing acquisition strategy and advice to national, regional and local operators. NatWest serves customers in England and Wales, supporting them with their personal, private, and business banking needs. NatWest helps customers at all stages in their lives, from opening student accounts, to buying their first home, setting up a business, and saving for retirement. Alongside a wide range of banking services, NatWest offers businesses specialist sector knowledge in areas such as leisure, manufacturing and technology, as well as access to specialist entrepreneurial support.
Uber Eats is an on-demand app and website that helps bring millions of people around the world the things they want, at the tap of a button. We partner with over 46,000 restaurants and merchants in more than 330 cities across the UK and Ireland. From specialty local favourites to national brand names, groceries to household essentials and more, Uber Eats has what you want when you want it—with an average delivery time of 30 minutes.
Zellar makes sustainability simple, accessible and affordable for small businesses across the UK. A one-stop-shop that brings together everything businesses need to become Net Zero
and more in one easy-to-use platform, starting from just £125 per year. Whether you're just getting started or looking for more ways to improve sustainability within your small business, Zellar can show you how sustainably you're operating, provide you with a customised roadmap and connect you