30 Nov 2021
First Chop launch new session beer "Eat Well" in support of Eat Well MCR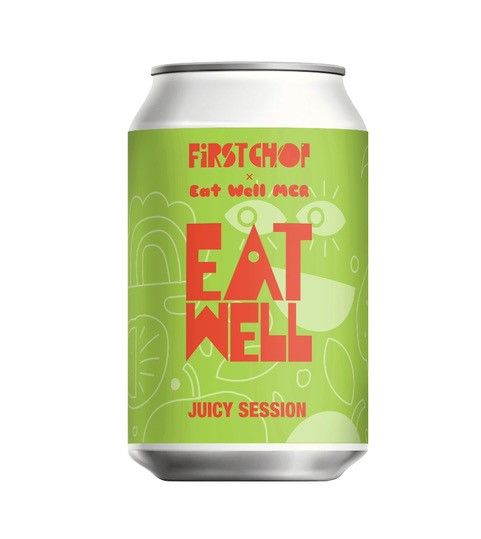 Salford based brewer First Chop launches new beer - First Chop x Eat Well: Beer with an added feel good factor.
Well loved Greater Manchester based brewer First Chop has been spreading community spirit with the launch of a brand new session beer, Eat Well to support the community initiative Eat Well MCR.
First Chop, the Manchester brewery, have announced their latest new session beer "Eat Well" in support of the Manchester based social enterprise Eat Well MCR. Eat Well MCR is a collective of Manchester-based chefs and hospitality professionals that provide chef made meals to children and families experiencing homelessness, women taking refuge in sheltered accommodation, parents of long-term sick children, foodbanks and schools supporting families experiencing food poverty.
The meals go beyond nutrition - they are cooked with care by professional chefs from the
Manchester restaurant industry and offer a much-needed moment of respite. Since April
2020 over 55,000 meals have been delivered across Greater Manchester.
First Chop has now brewed a special session IPA beer supporting Eat Well's non-profit activities with £1.20 from each can of First Chop x Eat Well IPA sold going to Eat Well MCR.
"We were so delighted when Rik from First Chop offered to partner with Eat Well MCR and make a beer that would provide ongoing funds for our meals. As a Manchester born brewery it makes perfect sense to support a Manchester based initiative and we're delighted that he chose us. We can't wait to see it in the shops and bars of Manchester!"
Kathleen O'Connor, Co-Founder of Eat Well MCR
The first 97 cans will be available to buy at Freight Island, Manchester. Bottle shops and hospitality venues can buy supplies online at EeBriaTrade here, the online drinks marketplace for hospitality industry. The public should keep an eye out for cans of Eat Well in their local bottle shops, off licences and bars. The eyecatching can is designed by local artist Stan Chow, incorporating the Eat Well MCR logo and colours into the First Chop brand.